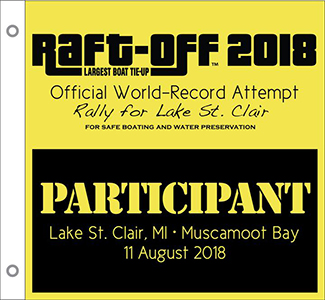 2018 Guinness World Record Attempt Raft Off Article
How will the 2018 Lake St. Clair Raft Off GUINNESS record attempt be counted?
2:00 p.m. – ONLY THE Matching REGISTRATION #'s with Official RAFT OFF FLAG will be counted by "on-site" GUINNESS Judge.
2:00 p.m. – Drone photo will verify record number of boats tied together at one time.  (Please do not untie your vessel to ensure verification – and if second drone photo needed)
GET YOUR FLAG by registering early and look for one of dozens of volunteers wearing yellow visors carrying yellow packs walking the line … (

OR TONIGHT

, stop by Brownies on the Lake in St. Clair Shores and pick up flag along with "Rally Gear" for your crew.)
$5 donation to help with associated costs from Guinness / equipment / volunteers/ safety packages, etc.
Details to know:
Arrive early and already be registered – supply registration # to volunteer & get your FLAG
Look for YELLOW BALLOONS marking the ends of lines to tie up
Place Registered FLAG low on boat stern so volunteer can easily pick up
Encourage other Raft Off vessels to register if they were unaware
2pm one minute hold – one person must be on each vessel
2pm please sound horn to signify READY FOR COUNT!
Any delays will be texted to pre-registered captains
By 4pm (estimate) all Flags/Registrations will be verified and announcement will be made
If you don't wish to register, no problem!  Please take part as always!  Help make it a fun and safe day for everyone at this extraordinary annual event.
Learn more at https://raftoff2018.com/ and to order "Rally Gear" that you may pick up tonight at Brownies on the Lake in St. Clair Shores.